Different world devil and summoned girl slave magic TV anime
This is a light novel by Yukiya Murasaki, with illustrations by Takahiro Tsuruzaki. A popular work that has been published at Kodansha Ranobe Bunko (Kodansha) since December 2014, and has a total of 1 million copies published. The hero who flew down into a different world, using the magical power of the game he has played so far, plays a self-proclaimed demon king, while being tossed by two heroines while confronting a strong enemy. The director is Yuta Murano, the character draft is Takahiro Tsurusaki, the series composition is Kazuyuki Kazuyasu, and the animation production is Aso Ado.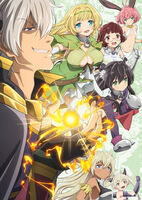 Start date: Summer 2018 broadcast date: July 5, 2018-September 20, 2018
Production Company: Asia Fine Genre: Fantasy
Voice actors: Masaaki Underwater, Yu Serizawa, Azumi Waki, Yumi Hara, Rumi Okubo, Emiri Kato, Atsumi Tanezaki, Yuka Morishima, Ayaka Senbongi, Ryutaro Okiayu, Akira Ishida, Akio Otsuka
Staff: Director: Yuta Murano, Series composition: Kazuyuki Kazuyasu, Character design: Shizue Kaneko, Total drawing director: Yuki Nishioka, Monster design action drawing director: Yuuki Miyamoto, Color design: Natsuko Otsuka, Art: Kusanagi, Photography: Asahi Production Shiraishi Studio, Cinematographer: Teppei Sato, Sound Production: Half HP Studio, Sound Director: Satoshi Motoyama
In the MMORPG Cross Reverie, Takuma Sakamoto was so overwhelmingly strong that he was called "Maou" by other players. One day, he is summoned to a different world in the game. There were two girls who insisted that I was the summoner. Takushin can be enslaved from them by the enslavement magic for the summons-but the unique ability "magic reflection" is activated! The girls have become slaves ...!? A different world adventure tan, where the Demon King (acting) rushes with absolute strength!