Domestic girlfriend TV anime
"Domestic Girlfriend" is a popular manga by Keikei, serialized in Weekly Shonen Magazine (Kodansha). A love story depicting a triangular relationship that begins with the living of a teacher, Tachibana Haruna, who has been thinking secretly, and Rui Tachibana, the first experience partner, following the remarriage of her parents when the main character, Natsui Fujii. The animation production staff is directed by Shota Ibata, the series composition is Tatsuya Takahashi, the character design is Naomi Ide, and the music is Masato Koda. Animation production will be done by Diomedia. The main cast is Tatsu Yatsushiro as the main character, Natsuo Fujii, Yoko Hikasa as Hina Tachibana, and Mae Uchida as Rui Tachibana.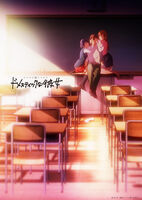 Start time: Winter 2019 broadcast date: January 11, 2019-March 29, 2019
Production Company: Diomedia Genre: Love / Love Story
Voice Actor: Maaya Uchida, Yoko Hikasa, Taku Yatsushiro, Haruka Kamura, Yoshimi Ohara
Staff: Director: Shota Inaba, Series Composition: Tatsuya Takahashi, Character Design: Naomi Ide, Art Director: Weisman, Art Setting: Maho Takahashi, Color Design: Yuki Hayashi, Director of Photography: Yasuyuki Ito, Editor: Toshihiko Kojima , Sound Director: Yayoi Tateishi, Sound Production: Bit Promotion, Music Production: Flying Dog, Music: Masato Koda
Natsuo Fujii, a high school student who died at an early age, secretly thought of a high school teacher, Haruna Tachibana. Natsuo who pushed into the unrequited thoughts and hearts and suddenly participated in a joint party invited to experience the first experience with Rui Tachibana who met there. In such a case, my father remarried. Hina and Rui appeared in front of Natsuo with her father's remarriage partner. A pure and forbidden radical triangular relationship between three people who live under one roof starts.