Even daddy wants TV anime
Originally based on the same manga for women by Serina Seo, serialized on the web comic distribution site "ComicFesta" (Wave). Directed by "Mitsutaka Noshitani, who worked on" The inside of the skirt was a beast. " I do. Masahiro Yamanaka, who plays the role of university student, Koya Asumi, and Junta Terashima, who plays the role of single father, Keiichi Naruse, are also in charge of the theme song "Home sweet Home".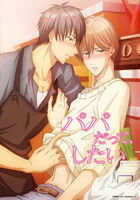 Start time: Winter 2019 broadcast day: January 6, 2019-February 24, 2019
Production Company: Magic Bus Genre: For Women
Voice Actor: Masahiro Yamanaka, Junta Terashima, Nozomi Furuki
Staff: Director: Mitsutaka Noshitoya, Screenplay: Ayumi Nishifuji, Character Design: Taihei Nagai, Sound Production: Studio Mouse, Sound Director: Takahiro Enomoto, Production: Picante Circus
The Naruse family visited by Asumi, a college student from the home economics part-time job. A single father, Naruse-san and her son, Ika, have a family of 2, but this Naruse-san is too sexy ...! !澄 Azumi is conscious of what she should be. And when Naruse notices that she is frustrated, she suddenly inserts a demon ... Naruse, it's too erotic to have a child ...!