"I can't choose the means to become a librarian of liberty who loves books."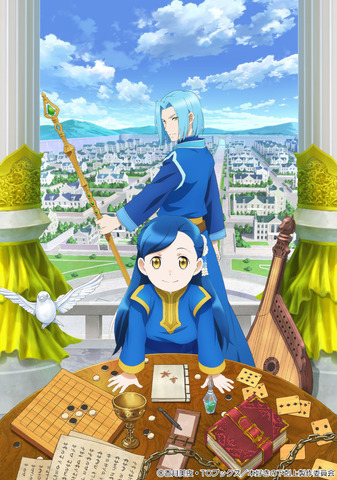 It has been decided that the TV anime part 2 of the TV anime "Bad Liberation Librarian I Can't Choose Any Means" to be broadcast in the spring of 2020 since October 2019.
"I don't choose the means to become a librarian of a book lover." Is a light novel by Miyo Kazuki, published by TO Books. In addition to surpassing 1 million copies in the series, "This light novel is amazing!" (Takarajimasha) is a topical work that won the first place (book and novel category) for two consecutive years in 2018 and 2019.
A college student who died shortly before becoming a librarian woke up as a soldier's daughter, Mine, in a medieval European-style world. A luxury item that cannot be reached by ordinary people, even if you want to read a book. "If you don't have a book, you can make it yourself!" Despite struggling with an environment that does not go as expected, he decided to make a "book" with his own hands, utilizing his previous knowledge, and rushed toward his dream. A vibrant fantasy for book lovers, dedicated to book lovers.
The director of the TV anime version is Mitsuru Hongo, who has been working on "Crayon Shin-chan" and others, the assistant director is Yoshiki Kawasaki, the series composition is Mariko Kunizawa, the character design is Yoshiaki Yanagita and Toshihisa Kaitani. Animation production will be performed by Asai-Ado.
Along with this announcement, the second part of the teaser visual was released. Mine (CV. Yuka Iguchi) in blue shrine maiden clothing and Ferdinand (CV. Sho Hayami), the priestess, are depicted.
In addition, the story of the TV anime part 1 currently being broadcast will finally reach the climax. It is said that episodes 13 & 14 will be broadcast continuously.
・ WOWOW: Wednesday, December 25, 2019, 24:30-25:30
・ ABC TV: 25:50-26:50 on Saturday, December 28, 2019
・ AT-X: Wednesday, January 1, 2020 from 20:00 to 21:00
・ TOKYOMX: Wednesday, January 1, 2020, 22: 00-23: 00
・ BS Fuji: Thursday, January 2, 2020, 24: 30-25: 30
[Work information]
■ "I can't choose the means to become a librarian of liberty who loves books."

Author: Miyo Katsuki / Illustration: Yu Shiina
Director: Mitsuru Hongo
Deputy director: Yoshiki Kawasaki
Series composition: Mariko Kunizawa
Character design: Yoshiaki Yanagida, Toshihisa Kaiya
Total drawing director: Yoshiaki Yanagida, Toshihisa Kaiya, Emiko Endo
Prop design: Hirata Ryo
Art director: Ryoka Kinoshita
Art setting: Toshiki Amada
Color design: Miyoko Ichinose
Director of Photography: Naoki Kitamura
Edit: Tomoki Nagasaka
Acoustic director: Jun Watanabe
Sound effect: Hiromune Kurahashi
Sound Production: JTB Next Creation
Music: unknown ru
Music Production: Flying Dog
OP theme: Sumire Moroboshi "Pure white"
ED theme: Ai Nakajima "Angel of hair ornament"
Animation production: Asia
Produced by Jenco



Mine: Yuka Iguchi
Ferdinand: Recommended by Hayami
Touri: Ai Nakajima
Afa: Fumiko Orikasa
Gunter: Takeshi Koyama
Lutz: Mutsuko Tamura
Benno: Takehito Koyasu
Otto: Satoshi Hino
Marc: Tomoaki Maeno
Frida: Aya Uchida



Reno Motosu, who lives in modern Japan, dies the day he decides to work for a library, his long-awaited wish.
"I wanted to read more books," she was reminded of, but when she realized she regained her consciousness with her body as a little girl Mine in a different world.

The story is set in Ehrenfest, a medieval city in a different world, dominated by nobles with magical powers.
In a strict status system, a young girl with modern Japanese knowledge struggles to get a book.



(C) Miya Kazuki, TO Books