Theatrical version "Detective Conan Navy Blue Fist" main visual has been lifted!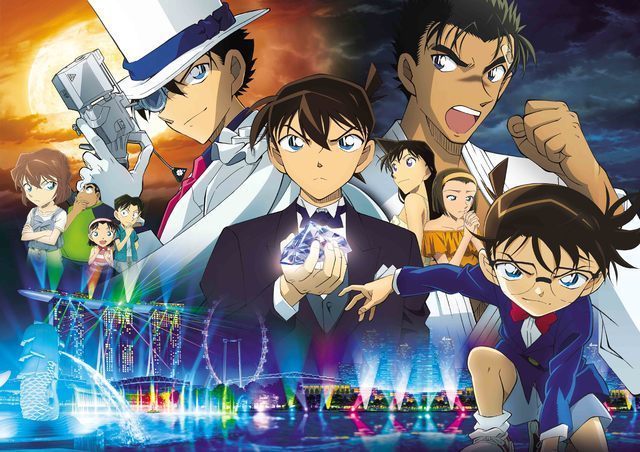 The main visual has been lifted from the latest movie "Detective Conan" series "Detective Conan Nao Blue Fist", which will be released on April 12 (Fri.) .
"Detective Conan" is an anime based on the popular detective manga serialized by Gosho Aoyama on Weekly Shonen Sunday (Shogakukan). A high school student detective, Shinichi Kudo, who witnessed a mysterious organization's transaction site and was taken a poison to seal his mouth. Shinichi, who has become a first grader's body due to the side effects of poison drugs that did not even have a mysterious organization, gives himself a temporary name, Conan Edogawa to hide his identity, and solves many incidents while following the organization's whereabouts Will be done. TV animation has been broadcast since 1996, and movie versions have been released every year since 1997. In the 22nd theatrical version "Detective Conan Zero Executor" released on Friday, April 13, 2018, the highest box office revenue of 9.18 billion yen was recorded, and the highest box office revenue was obtained for 6 consecutive works .
In this work, overseas is the first stage for Conan theatrical stage. Conan and his destined rival Kid Kaito, a murderer at Marina Bay Sands, and the "Lion's Land" over the world's largest gem, Blue Sapphire, which is said to have sank to the seabed at the end of the 19th century Get caught up in a huge conspiracy in Singapore.
This time, the main visual of "Detective Conan Navy Blue Fist" has finally been lifted.
As shown in the copy "The Trinity Battle Mystery That Determines Male and Female", Kyogoku with a brave expression, a phantom thief who smiles calmly, and Shinichi who has a serious expression with a blue sapphire that holds the key to this movie Is drawn. Also gorgeously lit up are Singapore's iconic Marina Bay Sands and Merlion, Singapore Flyer, and Conan smiling intimidatingly. What kind of battle will be held ... Keep an eye on it.
At the same time, Conist, Kid, and Kyogoku protrude their respective fists. Backed by a lion motif inspired by Singapore, the visuals represent the relationship between three people, each of which is Goo Choki Par, such as Janken's "Aiko", which is never settled. In addition, comments from Professor Gosho Aoyama have arrived for the movie release.
Book poster visual
Fist visual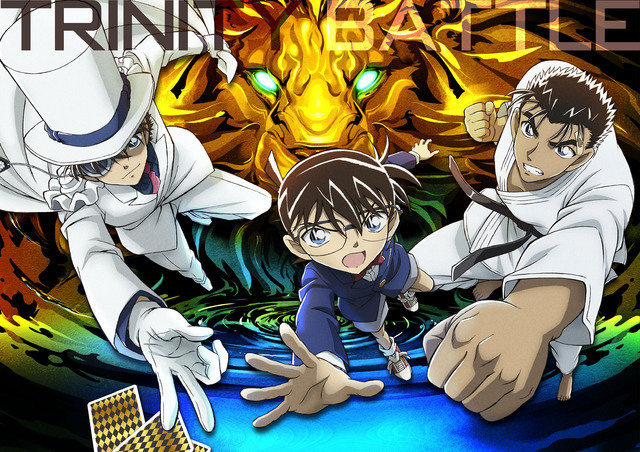 Comment from Gosho Aoyama
Domo is Aoyama! This year's movie is the first overseas! In Singapore, Conan and Kid are very active!
I'm worried about the squirt orchid and Shinichi ...
The highlight is Kyogoku vs. Kid !!
Please enjoy the flashy action of Kyogoku, which is strong enough to make the wrong comic, while holding your "fist" on the large screen ♪
[Work information]
■ Theatrical version "Detective Conan Navy Blue Fist"
April 12, 2019 (Fri) @ ROADSHOW!

The world's largest blue sapphire "Navy Blue Fist" is said to have sank near the sea with a pirate ship at the end of the 19th century.
A murder occurred at Marina Bay Sands when a local millionaire planned for recovery and appeared on the front stage. At the scene, a bloody notice of Kid Kid was left behind.
Meanwhile, Ran and Sonoko were on site to watch the karate tournament in Singapore. Conan, who could not travel abroad because he did not have a passport, was supposed to be answering, but was forced to take him to Singapore by Kidd's magical method of using him. Conan, who can't even return to Japan without following Kid, decides to take all his glasses, watches, clothes and disguise. An orchid who is not aware of its identity is asked for his name and calls himself Arthur Hirai (!?).
Eventually, Kid gets information that a blue sapphire is sleeping in a basement vault in a mansion. It seemed very easy, but a dangerous trap awaited Kid. The strongest standing was the strongest karate artist, Makoto Kyogoku, who had not defeated 400 matches. Kid's fate ...!?
And as if foretelling something ominous, the symbolic symbol of Singapore, Merlion, emits reddish-colored water!

The legendary treasure, once buried on the sea floor, awakens over time to the enormous darkness wriggling in the "Lion's Land"!


Original: Gosho Aoyama "Detective Conan" (Shogakukan "Weekly Shonen Sunday" serialized)
Director: Chika Nagaoka Screenplay: Takahiro Okura Music: Katsuo Ohno

Voice appearances: Minami Takayama, Wakana Yamazaki, Rikiya Koyama, Katsuhei Yamaguchi and others

Production: Shogakukan / Yomiuri Television / Nippon Television / ShoPro / Toho / Toms Entertainment
Distribution: Toho


(C) 2019 Gosho Aoyama / Detective Conan Production Committee