Megumi Hayashibara's 30th anniversary album `` Slayers MEGUMIXXX '' will be released on March 25 (Wed.) !!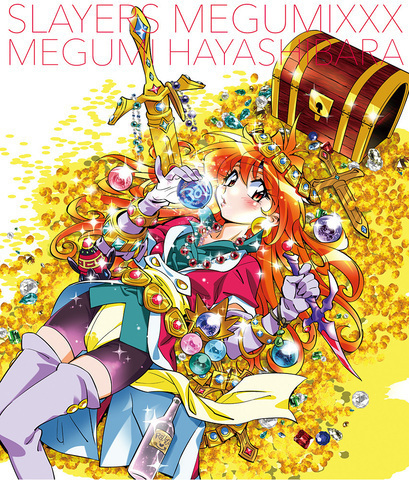 Megumi Hayashibara, who is not only a voice actor but also a radio personality, lyricist, and essayist, will release the album "Slayers MEGUMIXXX" on Wednesday, March 25, 2020. The title, jacket & artist visuals, and recorded songs have been released.
This is an album commemorating the 30th anniversary of the original publication of the monumental work "Slayers", which boasts immovable popularity in both the original and animation and still has enthusiastic fans. In addition to the numerous Slayers-related songs sung by Megumi Hayashibara, who played the main character Lina Inverse and has been in charge of various theme songs related to "Slayers" such as TV animation and theatrical version, a new song written for this time two thumbs up! "
The new song "two thumbs up!" Is a song that Hidetoshi Sato, who has been in charge of a number of "Slayers" theme songs, and Goh Takahashi have teamed up for the first time, and Hayashibara wrote the lyrics, "Slayers" 30 The song is like a new opening theme, suitable for the opening of the anniversary.
The jacket, which was unveiled for the first time, was drawn down by "Arizumi Rui" who is in charge of illustrations in the original work. The main character, Lina Inverse, who is surrounded by her favorite treasures, is trying to kiss a jewel after the album title, making the jacket unbearable for Slayers fans.
In addition, the artist visual released in the latest volume (17 volumes) of the original was shot under the theme of "uncomfortable feeling" inspired by Lina's appearance in the "outside world" where she used to be. That It looks like Mr. Hayashibara's visual as if he got into a different world, and the `` MEGUMIXXX Phrase PHOTO BOOK '' enclosed only in the first production includes the lyrics for the songs included and the art for this time You can see the work.
This album that you can enjoy "Slayers" that will delight both ears and eyes. I can't wait for the release.
[Product Information]
■ "Slayers MEGUMIXXX (Meg Mix Kiss)"
Release Date: Wednesday, March 25, 2020
Price: 3,000 yen (excluding tax)
Product No .: KICA-2573 ~ 2575
Sale and sales agency: King Records
Specifications: 3 CDs / Mirai Arai's jacket
◆ Special case specification for the first production only, MEGUMIXXX
Meg Mix Kiss
With phrase PHOTO BOOK 40P

◆ DISC1 ◆
01. two thumbs up! ("Slayers" 30th Anniversary Image Song) * New song
02. Get along -SelfTag Version- (TV anime "Slayers" OP theme rearrange song)
03. Give a reason (TV anime "Slayers NEXT" OP theme)
04. Breeze (TV anime "Slayers TRY" OP theme)
05. don't be discouraged (TV anime "Slayers TRY" ED theme)
06. Meet again (TV animation "Slayers" 10th Anniversary Image Song)
07. Plenty of grit (TV anime "Slayers REVOLUTION" OP theme)
08. Revolution (TV anime "Slayers REVOLUTION" ED theme)
09. Front breaking (TV anime "Slayers EVOLUTION-R" OP theme)
10. Hourglass (TV theme "Slayers EVOLUTION-R" ED theme)
11. JUST BEGUN (TV anime "Slayers EVOLUTION-R" final episode ED theme)


◆ DISC2 ◆
01. MIDNIGHT BLUE (Theme song for theatrical animation "Slayers")
02. Shining Girl (Theatrical animation "Slayers" image song)
03. Just be conscious (theme song for theatrical animation "Slayers Return")
04. RUN ALL THE WAY! (Theatrical animation "Slayers Return" image song)
05. Reflection (Theme song for the theater animation "Slayers Gureet")
06. GLORIA? I want to send it to you? (Theatrical animation "Slayers Gureet" image song)
07. raging waves (theme song for the theatrical animation "Slayers Gojas")
08. feel well (Theme song for theatrical animation "Slayers Puriamu")
09. Roomba Roomba (Theatrical animation "Slayers Puremiamu" image song)
10. In Endless Desire (OVA "Slayers Special" Theme Song)
11. Touch Yourself (GAME "Slayers Roiyaru" theme song)
12. I & Myself (GAME "Slayers Roiyaru 2" theme song)

◆ DISC3 ◆
01. Get along (TV anime "Slayers" OP theme)
02. KUJIKENAIKARA! (TV anime "Slayers" ED theme)
03. The sleepless night ... ("Slayers Etsora ① Excellent! Lina-Inverse Goes Today" song)
04. Going History (radio drama "Slayers EX." OP theme)
05. Burning Love (Radio Drama "Slayers EX." ED Theme)
06. Give a reason? Ballade version? (TV anime "Slayers NEXT" OP theme ballad version)
07. Maiden's Prayer ("Slayers NEXT SOUND BIBLE Ⅱ")
08. EXIT → RUNNING (Character song album "Slayers TRY TREASURY ☆ VOX" songs)
09. Somewhere in this world -MEGUMIX VERSION- ("Slayers TRY TREASURY ☆ BGM 2" included "Cover in this world" COVER)
10. SLAYERS 4 the future (Song best album "the BEST of SLAYERS [from TV & RADIO]" songs)