[Interview] Nano releases the best album "I".
8 years after major debut. Nano releases the best two album "I". DISC1 covers everything from 1st single "Now or Never" to 11th single "KEMURIKUSA". DISC2, where you can enjoy the most catchy nano trajectory, returns to the activities before its debut and challenges the cover of new Vocaloid songs. In addition, a new song "INSIDE MY CORE" and a new version of the popular song "magenta" and a variety of configurations. Nano says that it was time to release the best album to the world. We want you to enjoy the full contents!
A rich vest packed with the best parts of nano
── "I" became the best album that included all the single title songs and the album lead songs.
Nano: I didn't think it would be a rich vest so far, so I feel luxurious myself. I'm glad that we can put the best parts of nano into the world.
Why did you decide to release your best album at this time?
It's been eight years since I made my nano debut and I think it was time to go to the next step. I wasn't particularly conscious, it was a natural flow and I felt like it was now. The 5th anniversary and the 10th anniversary are not the best because of the small numbers, so the album has a stronger sense of being able to send it out.
The album titles are also powerful because they are simple.
I wanted to give my own title because it was Nano @ Best, so I decided to give it an "I" in the sense of ultimate personality. I think that it became an expression that I started singing myself and came here and carried the best album on my back and I will continue to push forward, and music activities so far, including the time when I was covering up with Nico Nico Douga Packing everything that was important in this, I think that it became a title appropriate for the album that was released to the world again through the current nano filter.
For those who became Nano's fans halfway through, it's a work that you can follow.
Nano: That's right. I'd be glad if you could listen to past songs and become more fond of nano music.
── DISC1 contains single songs in release order. It's the 2012 release that debuted "Now or Never" and "No pain, No game".
Nano 2nd single "No pain, No game" (TV anime "BTOOOM!" Opening theme) is a very difficult song in myself, and it has a strong impression on me. It was a song that I couldn't sing without a challenge, so I felt that my professionalism had risen from here. With a little soft song, we can't do it anymore. As expected, songs after that will be difficult like demons (laughs). I love "No pain, No game" when I sing live, because I feel like I'm seriously fighting, and in a way, I think it's a "monster" song.
── It can be said that this song was the foundation of Nano's music. DISC1 is mainly animated tie-up songs, followed by uptempo numbers. Among them, the 8th song "DREAMCATCHER" (the ending theme of the TV anime "Magical Girl Raising Project" ending theme) has become a widespread medium number.
Most of the songs of Nano @ Single are about the theme of conflict and suffering, but `` DREAMCATCHER '' is just a song that conveys happiness and dreams, and it is a song that can express the other side of Nano Was. I love this magnificent world view personally, and when I sing "DREAMCATCHER" live, I think that the live venue has doubled. Singing makes me feel very kind and I think it's a song that can connect with the audience.
── As an unusual variety, there is a Japanese-style "Utsushiyo no Yume" (TV anime "Kakuriyo no Yadome" opening theme).
Nano @ "Utsushi Yono Yume" has a high reputation overseas, and English is lined up in comments on music videos (MV) uploaded on YouTube. The song is borderless because it is Japanese. I was once again grateful to be able to sing various types of songs by encountering anime works. Nano music is basically rock, but thanks to the animation, the decorations attached to it have increased, and I have been able to make a lot of my drawers. I think that having been involved in animation works has also given me great musical inspiration.
「" KEMURIKUSA "(opening theme of TV animation" Kemrikusa ") included in the last of DISC1 was also a popular song.
Nano "KEMURIKUSA" was the first impression that it was an intense song anyway, but when you sing live, you get enveloped in a mysterious feeling. It was going to go somewhere other than here, or it was like everyone going into a different dimension, so it became an indispensable song for live. Even if it is a violent song in a single word, each has different elements and I think that "KEMURIKUSA" is a very fresh song. Also, I can describe it as a song that I should not aim for completion, every time I sing, I feel like struggling, I want to discover something new, I want to go to the unknown world.
It's interesting that the song should not be completed.
Nano: On the contrary, there is a song that aims to be completed, such as "SAVIOR OF SONG" (TV anime "Arpeggio of Blue Steel -Ars Nova-" opening theme). You can understand this feeling by singing live.
I think we've come up one stage at a time for each album
── DISC2 is composed of lead songs of successive albums and newly recorded songs this time. Since the 1st album "nanoir" was mainly the cover of Vocaloid songs, the lead songs from the 2nd album "N" to the 4th album "The Crossing" are included.
Nano: Looking back, I think that each album had its own new stage. The 2nd album "N" (released on February 27, 2013) was a double lead song of "neophobia" and "Nevereverland", but if you listen to these two songs now, you will be able to catch the nano that still exists. There was no impression. The MV of "Nevereverland" is an animation, and "neophobia" was the first to shoot a live-action MV. At that time, I was happy and scared because I was the first step on the stage. But I guess it was one of the stages we had to overcome.
Early Nano felt like a mysterious being.
Nano: That's right. He specialized only in singing songs, but as an artist, he had to come out as a live person. At first, I was so enthusiastic that I couldn't sing my own song. It was "N" that started such a fight with myself. So, when I read the lyrics of the song around this time, it was very painful. There are many songs that try to get over it.
── The 3rd album "Rock on." Is released on January 28, 2015, two years after "N". The lead song was "Rock on."
Nano: It didn't change much compared to "N", but at the time of "Rock on.", I was able to face myself, and that's fine, I'm wrong now Without it, I think it was an album that appealed strongly to itself and the world. Anyway, as a new nano, it was going to rock on in the future.
── It was powerful because of the jacket that holds the microphone.
Nano: Sure (laughs). When I made it, I didn't really realize that, but looking back now, the songs and the visuals were a lot of energy, and I felt like I wouldn't let go of the mic even if I die.
── Two years later, the 4th album "The Crossing" (released on May 31, 2017).
Nano: I'm glad that I was able to release a full album every two years, and I think I've been able to improve myself without interruption. At "The Crossing", I have a different feeling, and I feel like I have more time to look ahead than "Rock on." That is reflected in the words that became both the album title and the title song, "The Crossing," or "crossing," and the bridge is still in the fog beyond the bridge, but I'm willing to cross. The album was filled with perspectives for the future.
── "The Crossing" is a medium tempo song, and I felt that I was walking step by step.
Nano # 1 There are various emotions in one song, so I think that I can afford to look around instead of rushing. It seems that music can be sharpened, and there are more songs that have the same theme of conflict and pain, feel happy somewhere, and have a moment of relief. I think
Looking back at each album in this way, you can understand the flow of music activities of Nano.
When you look back at Nano, it really is. But when I was working on the album, I didn't make it this time because I knew it would be a work with this meaning. While I was absorbed in making everything with myself at that time, the mental at that time and the stage where I was involved entered, and now it was an album that meant such a meaning I guess it looks like I think each and every album made nano.
After the album "The Crossing", three singles were released, "Utsushi Noyume", "Star light, Star bright" and "KEMURIKUSA". .
Nano: That's right. Three songs that express the desire to enjoy more music, especially "Star light, Star bright" (the opening theme of the TV animation "CONCEPTION") are light in terms of music, and I think it just became a fun work. You. I've been singing with all my strength since my debut, and here's a chance to relax.
A new song "INSIDE MY CORE" is one lap and standing in the same place
The latest song beyond that will be called "INSIDE MY CORE".
Nano After one lap, the song seemed to be a powerful nano. So, even if it is similar to the starting point, it is not the same feeling. What do you see if you stand in the same place again, based on what you have gained through eight years of music activity? It is a song that expresses the current nano-likeness with the traditional nano-like sound feeling, so I think that it became a nostalgic but new song for fans who have always listened to nano.
Who is the songwriter?
Nano @ Shin Manahiro, a creator I have been working with recently, is a person who creates sounds that I personally love. "INSIDE MY CORE" is a mysterious song, it's not a WEST GROUND song, but it also feels like a WEST GROUND. Probably Shin Manahiro made it with the nano in mind.
── The lyric is Nano. What kind of theme did you write?
Nano @ I expressed my core with plain words. The lyrics say that all the onion skin is peeled off, leaving only the core. I was writing this song and felt that it was good to come for eight years without hurry because I could not reach it without taking much time. I feel like I got here with my own feet.
Did you get to a good place?
Nano: I didn't originally set a goal location and worked toward it, so I think I was able to move forward at my own pace. I wonder if it is better not to set goals. I wonder if I can proceed without being impatient. I was making "INSIDE MY CORE" and felt like that.
INS "INSIDE MY CORE" Music Video (Shot ver.) Is posted on the net. This is an MV that uses animation.
Nano @ animation only MV has been really after a long time. "Nevereverland" is the most popular MV you have ever made. Starting from here, I was able to connect with people from all over the world, so I think it's very meaningful to go around again and create an animation-only MV. And what will happen from now on by expressing the current nano with animation? I think that it became a video that stimulated the imagination of the listener.
── The sixth track "Loki" and the seventh track "ECHO" of DISC2 are covers for Vocaloid songs. "Loki" is Mikito P, and "ECHO" is Crusher-P.
Since there was a time when I was away from Nano @ Vocalo, I first investigated what I would like to cover now. I met Miki and P's "Loki", and I enjoyed the playful and sarcastic feeling.It was a genre that I had never done, so I decided to try it out . "ECHO" is a song with English lyrics by foreign Vocalo P. It's straightforward and cool, so I want to sing. I also received many requests from overseas and Japanese fans to cover this song.
── "Loki" is a relatively new song.
Nano: That's right. I wanted to experience more and more of the recent Vocaloid that evolved from Loki.
── The last "magenta" is a cover song that was included in the 1st album "nanoir" and is now reborn as a new version.
The origin of nano-nano is here. Singing "magenta" allowed me to enter the world, and I think this is the nano core that remains after stripping everything. I've decided to keep myself covered because it's a song that I want to keep on carrying, and I want new fans to listen to it. Originally I had no plans to include it, but I asked the director to record it.
What was your impression of the new arrangement?
I left it up to the director for the Nano @ Arrangement, but it sounded really surprising. A futuristic "magenta" was born with a tune that I had never challenged. I think it was very good to be able to sing as the current nano, including the immature parts. It was an arrangement that broke through common sense, so there should definitely be a response that the original was better, and I'm thinking of taking that as that. Anyway, I sang it because I wanted to deliver the soul of the nano challenger spirit.
There is a history of Nano's own, there is a return to the origin of Vocaloid cover, and with the latest songs, it was just an album that did not fit in the best.
Nano: I was able to produce it as if it were the latest original album. Although there are few newly recorded songs, I think that all songs were released with a fresh feeling through the current nano filter. I'm really looking forward to delivering it to my fans.
The "I" tour starts in May.
It will be a tour of 5 cities across the country. Although it is a tour of the best album, I would like to do something that would disappoint my expectations in a good way, rather than making it into a pattern.
Nano Profile
Born in New York, USA. A bilingual singer who uses both Japanese and English.
Since 2010, he has started posting cover songs such as Western music on YouTube and other video sites, and has gained the support of many users both domestically and internationally.
In March 2012, the album "nanoir" was released and made its major debut. In May of the same year, the first single "Now or Never" (TV animation "Phi Brain Kami no Puzzle") was released. This is the first anime tie-up song. To date, he has released 11 singles, 4 full albums and 1 remix album. This is the first release of the best album.
CD data
■ BEST ALBUM "I"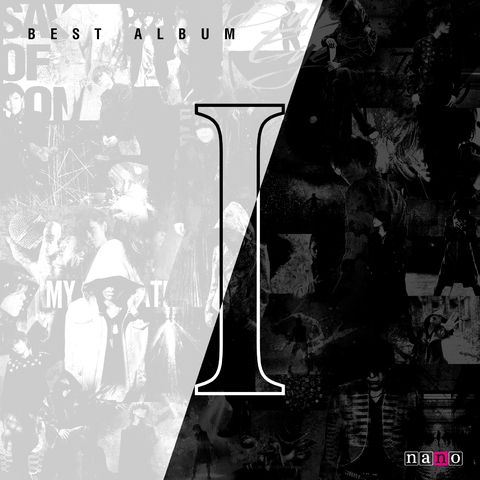 2CD ¥ 3,500 (tax not included)
Label: FlyingDog / Released March 18, 2020

[DISC 1]
01. Now or Never (Opening theme for the TV anime "Phi Brain Puzzle of God" 2nd series)
02. No pain, No game (TV anime "BTOOOM!" Opening theme)
03. SAVIOR OF SONG (Opening theme for TV anime "Arpeggio of Blue Steel -Ars Nova-")
04. Born to be (Ending theme for TV anime "Magic War")
05. INFINITY ≠ ZERO (Theme song for the movie "Bakumatsu High School Students")
06. SABLE (Ending theme for TV anime "M3-Sono Kuroki Steel-")
07. Bull's Eye (TV anime "Aria the Scarlet Ammo AA" opening theme)
08. DREAMCATCHER (Ending theme for TV anime "Magical Girl Raising Project")
09. MY LIBERATION (Opening theme for the TV anime "Chain Chronicle-Hexeitas no Sen")
10. PARAISO (Ending theme screened for the anime "Chain Chronicle-Hexeitas no Sen" event)
11. Utsushi Yono Yume (TV Anime "Kakuriyo no Yadome" Opening Theme)
12. Star light, Star bright (TV anime "CONCEPTION" opening theme)
13. KEMURIKUSA (Opening theme for TV anime "Kemurikusa")

[DISC 2]

01. neophobia
02. Nevereverland (Light Novel Original Blu-ray Animation "Arc IX" Theme Song)
03. Rock on. (Theme song for the animated film "The Arpeggio of Blue Steel -Ars Nova-DC")
05. INSIDE MY CORE (new song)
06. Loki (cover song)
07. ECHO (cover song)
08. magenta (BEST ALBUM ver.)



information


● Nano BEST ALBUM TOUR "I"

May 23rd (Sat) Tokyo ・ SHIBUYA CLUB QUATTRO OPEN 17:00 START 18:00
June 6 (Sat) Sapporo ・ SPiCE OPEN 17:30 START 18:00
June 14 (Sun) Fukuoka ・ DRUM Be-1 OPEN 17:00 START 18:00
June 27 (Sat.) Nagoya, NAGOYA CLUB QUATTRO OPEN 16:00 START 17:00
June 28 (Sun) Osaka ・ Music Club JANUS OPEN 17:00 START 17:30

* For details, go to the official site


(Interview and text / Takashi Suzuki)