A popular romantic rice manga "She will borrow", which has surpassed 3 million copies, will be turned into a TV anime in July 2020!
It is announced that "She will borrow" serialized in "Weekly Shonen Magazine" will be turned into a TV animation in July 2020.
"She will borrow" is a popular romantic comedy manga by Reiji Miyajima. The hero, Kazunari Kinoshita, who has been humbled by her, has become a love story with Doki MAX, a gunless love story that begins with the encounter with a beautiful girl, Chizuru Mizuhara in a certain way.
The animation director is Kazuomi Koga, the character design is Hirona Hirayama, the music is Hyadain, and the animation production is Toms Entertainment.
Along with the announcement of television animation, the first teaser visual depicting a date with Chizuru Suwon in an amusement park was released. This time, the scene from an amusement park date is depicted.
In addition, teaser PV is also released at the same time! Appearing in front of Kazuya, who is humbled and depressed, is Chizuru Mizuhara, an ideal girl who is energetic and adorable. You can see the true nature of Chizuru, and it is a PV that gives you a glimpse of the relationship between Chizuru and Kazuya.
Main cast release. The main character, Chizuru Suwon, is Amamiya Ten
In addition, the main character visual & main cast information was also determined. Azumi Amamiya plays Chizuru Suwon, Asami Nanami, Aki Yuki, Ruka Sarashina plays Nao Higashiyama, Sumi Sakurazawa plays Rii Takahashi, and Kazuya Kinoshita plays Shun Horie.
■ Chizuru Suwon (CV. Amamiya Ten)
A beautiful girl with outstanding style in long black hair. When you walk around the city, 10 out of 10 people look back and have the ability to cope with the situation even in an emergency. He has a serious personality and always strives to fulfill his dream. She of neat and pretty ideal.
■ Asami Nanami (CV. Midori Yuki)
Kazuya's ex-girlfriend is a fluffy beautiful girl. I went out for only one month and separated immediately. Despite the cute appearance and atmosphere, there is also a black side ... After seeing Kazunari who is with Chizuru, he has started a mysterious attack. Yurufuwa small devil girlfriend.
■ Runatsu Sarashina (CV. Nao Higashiyama)
A beautiful girl with a cheerful and bright personality. The ribbon is a trademark for the shortcut. For some reason, I'm looking for something that makes me excited. To do that, we have to take a bit of aggressive measures. Super aggressive sister idol.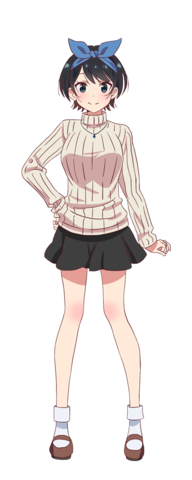 ■ Saku Sakurazawa (CV. Li Yi Takahashi)
Beautiful girl with cherry-colored hair in slender style. A junior of Lenkano office to which Suwon belongs. However, she is so shy that she can't keep the conversation going and is trying to change herself. The daily routine is calligraphy and dog walking. She is a healthy and hard worker.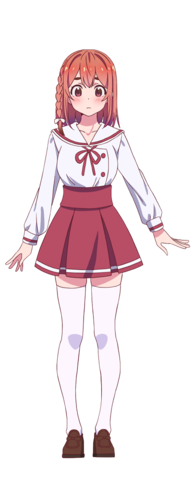 ■ Kinoshita Kazuya (CV. Shun Horie)
A college student living in Tokyo. Even when you have an indecisive personality and are about to lose. On the other hand, it also has the gentleness of a straight ball that cares for the people around it. My hobby is aquarium.
Cast comment
In addition, comments have also arrived from the cast, so I will introduce them below (all original texts).
■ Chizuru Suwon, Amamiya Amamiya
The enticing word "rental girlfriend" and a beautiful girl ...! I wonder if it's a sparkling story of the hero and the rental her, and as I read on, there is more fun, and I'm really looking forward to playing Chizuru from now on! I'm frustrated with Kazuya (laughs), but I thought Kazuya and Chizuru should be more human. Chizuru is a professional heroine who is a perfect heroine at work, but in fact I was much more manly than Kazuya and I thought that the inside was a very nice character.
I want to play both the girly of the work mode and the part of the masculine and comfortable personality that you can receive as Chizuru's charm!
■ Asami Nanami, Aoki Yuki
I thought that the fierce battle between women was exquisitely realistic and interesting. Although there are still works in which the main character is matched with girls, the way is quite real. Every girl is exquisitely messy and exquisitely cute.
Asami is ah! There is such a woman! There is a woman who has no obsession with the man himself, but who does not have to take the time to mount it to other women! ! It was As an official Las Boss certified heroine, I hope you can stir it firmly.
■ Ruka Sarashina, Nao Higashiyama
By using her service called "Rental Girlfriend", I read the extraordinary daily life of Kazuya, who had been living a dull student life, and it was very interesting and exciting. The idea of ​​adolescent boys is interesting, and the heroines who are too cute are thrilled.
For Ruka, Kazuya is the only man who has been searching for him. So desperately, I will tell Kazuya-kun my feelings of love. She's a little brute force, and she has an appeal from a great angle, so she's always a girl. Ruka-chan's amazing thing is that she has not only strong feelings but also her ability to act, so I'd like to keep her pace and explode the likes.
■ Sumi Sakurazawa, Riyo Takahashi
cute. It's just cute. And everyone is cute. can not decide. I wouldn't be able to choose, but Kazuya-kun has a solid relationship with each of them and is cool. Later, very hot. Kazuya-kun is a good man. Of course, I want Kazuya to be happy. Sumi is nervous and can't convey her words well, but her voice is a chattering impression.
I will do my best to make you feel as much as possible, not to mention the cuteness of Sumi-chan, as much as you can, and your breath!
■ The role of Kazuya Kinoshita and Shun Horie
The way the environment surrounding Kazuya and Chizuru is changing at a good tempo is very refreshing, and I thought that it was a work that I could not stop turning the page while reading. I am really looking forward to seeing this tempo in anime!
It seems that if you read it normally, Kazuya seems to be a boy who looks good and feels depressed, good or bad, has a male college student thinking, but that is why he values ​​the straight part and is a boy who can not hate somewhere I will do my best to make you think!
Present campaign implementation
Also, on the anime official Twitter, there is a present campaign where the original author, Mr. Reiji Miyajima, draws a hand-drawn illustration colored paper.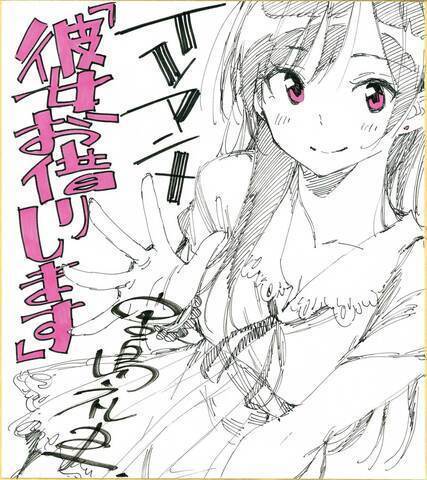 Just follow the official anime account (@kanokari_anime) and RT the relevant post to complete the application. The application period is until 23:59 on Saturday, December 28, 2019.
[Overview of animation]
■ She borrows
・ Broadcast start time: July 2020

Chizuru Suwon: Amamiya Ten
Asami Nanami: Midori Yuki
Runatsu Sarashina: Nao Higashiyama
Sumi Sakurazawa: Lily Takahashi
Kinoshita Kazuya: Horie Shun


Original: Reiji Miyajima (serialized in Kodansha "Weekly Shonen Magazine")
Director: Kazuomi Koga
Series composition: Mitsuhiro Hirota
Character design: Hirona Hirayama
Music: Hyadyne
Animation Production: Toms Entertainment


Kazuya Kinoshita, a 20-year-old nominee college student. She kissed her for the first time only once, but she got hurt in just one month.
"Ah ... no ... it's all bad ..."
Kazuya, who has lost his time, decides to date a girl using a certain method. When she went to the meeting place, she said, "You're Kazuya, aren't you?", Chizuru Mizuhara, a beautiful girl looking at Kazuya's face with her undulating black hair, smiled.
With just one rental, there is a shining real! Love x Doki MAX's gunless love story begins!



(C) Rei Miyajima, Kodansha / "She will borrow" Production Committee